Please note, all of my Gowns are not perfect reproductions. They are gowns that give a look and feel of the Titanic originals. I have truly enjoyed taking artistic freedom in interpreting these lovely designs.
I hope you enjoy them as well!
Custom Made Reproduction Titanic Inspired Movie Gowns can be made to your specifications and measurements.

My price range is from $250 to $3000 based on the version selected, availability of materials and variety of beading.

Please contact me for a price estimate at

TheCostumeMistress@gmail.com
The Boarding Suit - Gown #1 as it appears in the movie
Rose's Boarding Suit caused an overnite sensation when she turned back that overly large brimmed hat to reveal that china doll face and sarcastically remarked "Why, it doesn't look any bigger than the Mauritania!" We all fell in love in an instant with this young woman who spoke her mind.
Reproduction Boarding Suit
Reproduction Titanic Boarding Suit
Reproduction Titanic Jump Dress - Gown #4 as it appears in the movie
Plus size Jump Dress which consists of a beaded lace "vest" style overdress with beaded point d'esprit train. Beaded lace has red and copper beading along with 30SS swarovski crystals hand applied. The train has over 75 hand applied 20ss crystals as well. The underdress upperbodice is constructed with a matching unbeaded lace, lined with flesh colored illusion for modesty. The 2-part skirt consists of an outer layer of Silk Organza, two lines of 3.5" beaded fringe and eight 3" swarovski studded medallions. The red underskirt is of silk charmeuse with an poly-acetate lining.
Standard Version Jump Gown
Full Length Back View
Closeup View of Skirt Detail
Beaded Fringe and Lace Medallions
Titanic Jump Dress
Deluxe Version w/silk and extensive beading
Standard Version w/silk and minimal beads
Costume Version w/satin and laces

Contact us for Pricing!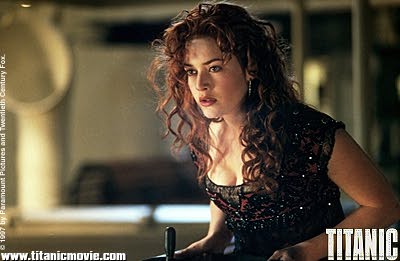 Titanic Reproduction Breakfast Gown - Gown # 8 as it appears in the movie
It is made of Butter Yellow Satin Shantung and a beautiful light and airy poly floral lace. Yellow Carnation silk ribbon flowers delicately grace the neckline and trail out slightly on the bust line to create a dazzling look! $200.00
Reproduction Titanic Breakfast Gown
Full Length Front View
Breakfast Gown Full Length Back View
The Flying Gown - Gown #9 as it appears in the movie
The Flying Dress
Deluxe Version w/silk velvet and embroidery
Standard Version w/Rayon Velvet and applique
Costume Version w/Velveteen and lace

Contact us for Pricing
Flying Dress - Bodice Insert and Detail
The Kimono - Gown #10 as it appears in the movie
This kimono was constructed of imported silk georgette and embellished with crystal studded silver embroidered paisley appliques on the sleeves. My version was created for a New Jersey Bride for her wedding trousseau.